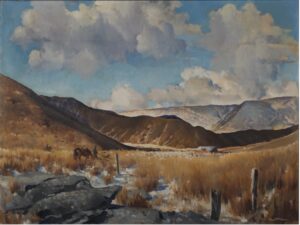 EARLY WINTER, LINDIS PASS BY PETER MCINTYRE'S – GIFTED BY THE ROTARY CLUB OF LONDON, ENGLAND TO THE ROTARY CLUB OF WELLINGTON, NEW ZEALAND
The sale of the lease of their premises prompted The Rotary Club of London (RCL) to review the treasures they had stored there. Among them was a signed oil on canvas painting 76 x 101cm, Early Winter, Lindis Pass, by New Zealand artist Peter McIntyre.
The RCL's advisor suggested they contact Jonathan Gooderham, owner of the Jonathan Grant Galleries in Auckland. He specialises in the repatriation of paintings and sculptures by New Zealand-born artists who worked in England between the 1900's and 1950's and regularly exhibits paintings by Frances Hodgkins, Peter McIntyre and Francis McCracken.
Meanwhile Ian Balcombe, RCL Vice-President, contacted Marion Eades (RC Wellington), a Past President of RCL and now returned to New Zealand. Ian explained that the RCL wanted to use the proceeds of the sale of the painting to support Rotary's work and Marion outlined the project her club was working on with others in New Zealand and Australia to mark one hundred years of Rotary in Oceania, Rotary Give Every Child A Future.
The Council of the RCL decided to gift the painting to the RC Wellington (RCW) so that the proceeds could be donated to RGECAF. The RCW agreed to accept the gift and arranged the sale with Jonathan Grant Galleries.
As a personal donation to RGECAF, Jonathan Grant Galleries absorbed the costs of shipping and insurance as their contribution to the project and the resulting gift has increased the funding available to the project to $10,000.
The painting is now in New Zealand where it has undergone some minor restoration and cleaning.   Jonathan has since confirmed that a handwritten inscription on the painting confirms it is of the Lindis Pass.
The team at RGECAF are grateful to the RC London and Jonathan Gooderham for their generous donations.