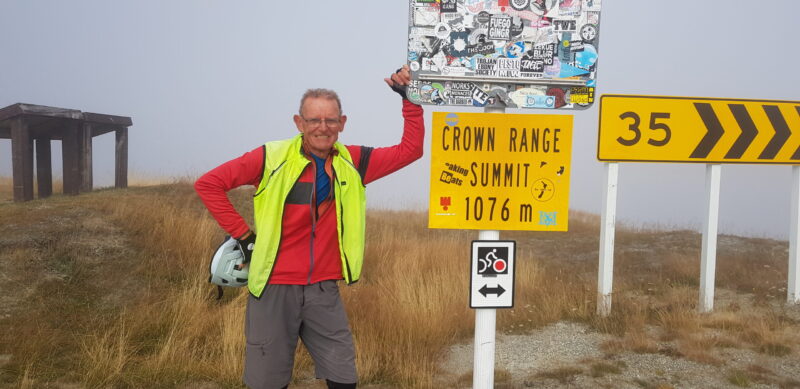 Alan White joined the Rotary club of Greenmeadows in the Hawkes Bay (District 9930) just before New Zealand's COVID lockdown in early 2019. Months later he was cycling the length of New Zealand to raise funds for Rotary Give Every Child A Future (RGECAF) and increase awareness of the Rotary Australasia Centenary.
RGECAF: Alan how long have you been cycling?
Alan: I have always been a runner but the idea of cycling began in 2005 and a conversation at a conference dinner with a guy who had cycled across America. That appealed to me but it was not until early 2009 that I actually started cycling. My partner Liz and I cycled the Otago Rail Trail and we loved it! Liz then suggested we train for the November Taupo Cycle Challenge (160km round Lake Taupo). Multiple international cycle challenges followed.
RGECAF: And cycling for a Rotary project. How did that begin?
Alan: I finally did the Trans-Am in November 2019. Now retired, I was thinking how I could to give back to the community. I met a local Rotarian who suggested Rotary, and Liz, who had been a Rotarian overseas in the past, thought it would be a good fit for me. I joined the RC Greenmeadows in February 2020 but only managed a few meetings before the COVID lockdown. I emerged with cabin-fever and ready for another big bike-ride. My previous 'giving' had always been to New Zealand charities but our District Governor Grant Spackman was promoting RGECAF, his chosen project for the year, at his club visit. This inspired me to think 'like a Rotarian' and about the needs beyond our borders. I approached our club executives to suggest a bike ride fund-raiser and they responded very enthusiastically. I wanted to include the Hawkes Bay Cancer Society as a co-recipient of funds as this is a charity close to my heart after losing my wife Jan to cancer in 2004. The bike ride ticked multiple boxes for me; raising awareness of the Rotary Australasia Centenary and supporting local and international needs. In addition, RGECAF is a vaccination project. The importance of vaccines to save lives is more relevant today than ever before.
RGECAF: 3000km over 44 days. How was it and how did it feel to finish?
Alan: I had never cycled for charity before which added to the responsibility of completing the challenge. So, relief. Relief and satisfaction. I cycled for 35 of the 44 days with a prolonged stop in Hamilton for bike repairs, and two rest days. The ride was solo and daily distances varied with the terrain, but I averaged 88km/day.
RGECAF: An amazing achievement, especially for someone in their 70's. On behalf of the children in the Pacific, and Rotary Give Every Child A Future, Thank You Alan.